Get Trendy Hair Colours at Zappas Hair Salons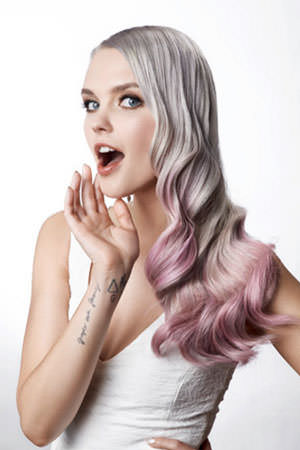 This season, we have fallen in love with the rose gold and silver grey hair colours. If you love re-inventing your style, you have come to right place. Creating hair colours that are in vogue and a true representation of our clients' personality is what we love doing at Zappas Hairdressing Salons. Keep on reading to find out how to get beautiful Rose Gold and Silver Grey Hair Colours.
Using the best hair colour products from L'Oréal, our expert hair colour technicians can create beautiful rose gold and silver grey hair colours. We can also correct your hair colour woes with our colour correction service. We may also recommend we use the incredible OLAPLEX hair treatment, which restores and repairs damaged hair and can be used during the hair colouring process to strengthen your hair.
We offer a complimentary consultation to our clients – during the consultation, we will discuss your desired look and weigh the colour options and techniques suitable for you.
Step by Step – How to Colour Hair Rose Gold or Silver Grey
Changing your hair colour to rose gold or silver grey in a do-it-yourself process is not only challenging but can result in unexpected off colours that can be hard to repair at home. This is why we advise colouring your hair at Zappas hair salons, in a professional setting.
Step 1: Bleach your hair blonde
The initial step to alter your hair colour to either rose gold or silver grey is bleaching hair to platinum blonde. The process can be repeated until the desired shade is achieved and the repetition is dependent on the starting hair colour. A lighter hair colour from your current shade is suitable for the rose gold look, however, a golden blonde shade will also do.
Step 2: Add a toner
For the removal of orange or brassy hues, it is important to add a toner. A purple toner is applied if the desired shade is silver grey, giving your hair a whiter silver hue.
Step 3: Dye your hair rose gold or silver grey
Application of the desired shade of silver grey or rose gold dye is the final step. A colour safe shampoo is then used to wash the dye off the hair.
Book a Hair Colour Appointment at Zappas Hairdressing Salons
For a free colour correction consultation or to find out further information about our hair colour options, give us a call on the links below: